Jerusalem and Gaza
CNN
 — 

At least 10 Palestinians were killed Wednesday during a rare daytime raid by Israeli military forces in the occupied West Bank that also left more than 100 injured, Palestinian officials said.
Israeli authorities said Wednesday's operation in Nablus targeted three suspects "planning attacks in the immediate future." The three were "neutralized," the Israel Defense Forces (IDF) and Israel Security Agency said in a joint statement.
All three of the suspected Palestinian militants targeted by the IDF were killed, a list of the dead released by the Palestinian Ministry of Health shows.
The IDF said one was shot while fleeing and the other two were killed in an exchange of fire with the military.
Israeli authorities said that suspects threw rocks, Molotov cocktails and "explosive devices" at Israeli forces.
The Islamic Jihad militant group said two of its commanders were killed in the clashes with Israeli troops.
The Lion's Den militant group also confirmed its members were involved in the fighting, but did not say if any of their members were killed.
One of the dead targeted in the Nablus raid was a Hamas member, the Palestinian militant group said. Hamas claimed Hussam Salim as a member and a martyr, releasing a photograph of him holding an assault rifle with a telescopic sight.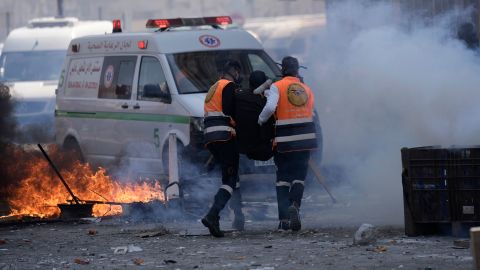 The IDF named him as one of their targets, accusing him of carrying out "shooting and explosive device attacks" and dispatching the killers of IDF soldier Ido Baruch last year. The IDF identified Salim as a senior operative of Lion's Den, which claimed responsibility for the killing of Baruch in October of last year.
There is overlap between the membership of Palestinian militant groups.
Islamic Jihad's armed faction in Gaza, the Al Qassam Brigade, warned they are "watching the enemy's escalating crimes against our people in the occupied West Bank, and its patience is running out."
Six of the dead were men in their 20s, the ministry said. One was 16, one was 33, one was 61 and was was 72. All were men, the ministry list of dead shows.
In addition, the ministry said 104 Palestinians were injured "with live ammunition … six of them in critical condition."
The raid brings the number of Palestinians killed by Israeli forces to 61 this year, the Palestinian health ministry said. That number includes people shot as they attacked Israelis, militants being targeted in raids, people clashing with Israeli forces during raids, and bystanders, CNN records show
Eleven Israelis have been killed in Palestinian attacks this year: seven in a shooting near a synagogue, three in a car ramming attack, and a border police officer who was stabbed by a teenager and then shot by friendly fire from a civilian security guard.
IDF raids into the West Bank usually occur overnight; the last time the military conducted a daylight operation, they said it was because of an immediate threat.
The occupied West Bank has been rocked by a series of lethal Israeli military raids in the past year, as tensions in Israel and the Palestinian territories remain sky-high in a region riven by bloodshed.
An Israeli raid in the city of Jenin in January caused the deadliest day for Palestinians in the West Bank in over a year, according to CNN records, with at least 10 Palestinians killed on the day and one dying later of his wounds. One day later, at least seven civilians died in a shooting near a synagogue in Jerusalem – which Israel deemed one of its worst terror attacks in recent years.
This comes as Netanyahu leads a cabinet that has been described as the most far right and religious in the country's history.
Netanyahu previously told CNN's Jake Tapper that people can get "hung up" on peace negotiations with the Palestinians, saying he has opted for a different approach.
As relations between Israeli forces and Palestinian militants boil over, CNN's Hadas Gold said the scenes on Wednesday reflected those "not seen since the second intifada," or uprising.
"Typically when these Israeli military raids happen they happen in the cover of darkness, overnight or in the early morning hours," Gold told CNN's Becky Anderson on Connect the World.
"Even for the last year and a half or so here, that has been a very violent and deadly year, these numbers are some of the highest I've seen in my time here," she added.
"These are the types of operations that some say we have not seen since the second intifada."