Editor's Note: This CNN Travel series is, or was, sponsored by the country it highlights. CNN retains full editorial control over subject matter, reporting and frequency of the articles and videos within the sponsorship, in compliance with our policy.


CNN
 — 

The Kingdom of Saudi Arabia may have only just started out on its tourism journey, but it's going big. Bigger than big.
So big, in fact, that the country is focusing its efforts on what it's calling "giga-projects," developments that form a key part of the Kingdom's Vision 2030 plan to create new economic ecosystems and drive diversification.
Saudi Arabia aims to attract 100 million visitors a year before 2030, no small goal considering that the country only welcomed its first eVisa-carrying tourists in 2019.
Futuristic and sometimes contentious new destinations, such as NEOM, with its 170-kilometer-long car-free mirrored city The Line and winter sports resort of Trojena, are springing up across the Kingdom to draw these visitors, alongside other projects that focus on the nation's ancient history, such as the Nabataean tombs in AlUla and the oasis towns of Khaybar and Tayma.
On the edge of the Saudi capital, Riyadh, is another giga-project that aims to attract 27 million of those annual visitors to a 14-square-kilometer site filled with historical and cultural attractions.
Considered to be the birthplace of the nation, Diriyah is the ancestral seat of the Al Saud dynasty and home to the UNESCO World Heritage Site of At-Turaif, the site of the First Saudi State, established in 1727.
Diriyah has huge significance for modern Saudi Arabia, both historically and culturally. And as a key giga-project in the Kingdom's Vision 2030 plan, there's pressure to get it right.
Jerry Inzerillo, group CEO of the Diriyah Gate Development Authority, has been tasked with doing just that. A five-decade hospitality veteran, he's leading a team that aims to develop Diriyah as a flagship project of Vision 2030, providing "unparalleled cultural experiences for visitors and driving economic growth for the Kingdom."
"We are committed to preserving and promoting the history and culture of the city, and we look forward to welcoming visitors from all over the world to bear witness to its beauty and be a part of the legacy it represents," he says.
Destination-building doesn't come cheap.
Diriyah is a $63.2 billion project which, according to Inzerillo, is "one of the largest and most complex in the world."
But what is there for visitors to do once they get there?
The first phases of the master plan opened at the end of 2022, including the At-Turaif World Heritage Site with new galleries and museums that chart the history of Diriyah, along with remnants of city walls, royal palaces and mosques.
Directly opposite is Bujairi Terrace, a collection of dining venues built in the region's traditional Najdi mud-brick architectural style, including local concepts serving high-end Saudi cuisine as well as international restaurants such as Angelina, COVA and Sarabeth's.
But the plans for Diriyah go far beyond a few restaurants and museums.
"We have a rolling masterplan that adapts to ensure we stay on track, and we will be launching new assets every year until 2030," says Inzerillo. "Our goal is to deliver a world-class cultural hub in the heart of the nation."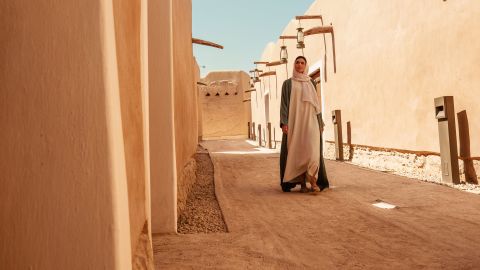 Some 38 new hotels and resorts will be opening in Diriyah, including properties by big-name brands such as Ritz-Carlton, Park Hyatt and Raffles, alongside six museums, 26 cultural attractions, more than 400 luxury and lifestyle outlets, and over 100 souqs and bazaars.
Six parks will span 2.6 square kilometers, filled with tens of thousands of trees and traversed by trails and pathways for walking, cycling and horseback riding.
Events will also be a major focus for the destination, and there's already a busy program underway. The 2022 edition of the Diriyah Season kicked off in October and ran until February 22, 2023, featuring high-energy fixtures like January's Diriyah Formula E race and concerts by John Legend, French Montana and Martin Garrix.
Diriyah's palm groves are currently being transformed with immersive light installations by international and Saudi artists, including Masamichi Shimada and Balqis AlRashed, as part of Diriyah Nights, with Arabic music concerts, pop-up restaurants and shisha lounges drawing the capital's residents.
The Diriyah Urban Festival took place from February 10-11 and 15-18, featuring parkour, skateboarding, breakdancing and the 2023 BMX Freestyle World Cup.
Diriyah is on track to change the face of Riyadh as a whole. Not only will it give tourists more reasons to visit, but the new infrastructure being introduced – smart city strategies, pedestrianized areas, greater use of public transport, and a new metro connection – will feel like a breath of fresh air compared to Riyadh's notoriously busy traffic.
About 100,000 people are expected to make the new residential areas of Diriyah home.
The heritage sites of At-Turaif are being brought to life for visitors by a team of 30 enthusiastic young Saudi guides who lead them through galleries that chart Diriyah's history, as well as delving into subjects like equestrianism, traditional architecture, currency and trade.
Visitors may even find themselves exploring the site in the company of royalty. One of the guides is 30-year-old Princess Al-Jawhara Abdulmohsin Al-Saud, a member of the Al-Saud family whose ancestral homeland this is.
The princess told CNN it was a visit to At-Turaif with her family that made her decide to take up a role in the country's burgeoning tourism industry. As part of the At-Turaif experience team, she guides visitors through exhibitions that focus on the first imams who played pivotal roles in shaping modern Saudi Arabia.
"I knew that I wanted to be a part of preserving and sharing this cultural treasure," she said via email. "I applied to the Diriyah Company and was thrilled to be given the opportunity to play a role in helping to bring At-Turaif's history to life for visitors from around the world."
With her family heritage, the role has even more significance for her. "As a member of the House of Saud, guiding visitors around Diriyah is a truly meaningful and humbling experience. It is my privilege to bring their stories to life for all to appreciate and learn from."
Hopes are high that Diriyah will draw visitors as interested in the kingdom's cultural heritage as in its ambitious futuristic developments.
Inzerillo is confident that it will, believing that Diriyah offers as much to Saudis as it does to visitors, giving everyone an opportunity to understand the culture, history and traditions of Saudi Arabia.
"For locals, it's an opportunity to celebrate and reconnect with the rich history and culture they have inherited," he says.
"For visitors, it is a chance to immerse themselves in a unique and authentic cultural experience, to explore the UNESCO World Heritage Site of At-Turaif and to discover the traditional architecture and natural beauty of this city built from earth."