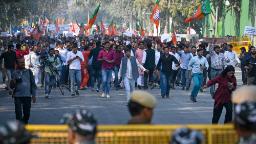 New Delhi
CNN
 — 

When dozens of security personnel crowded onto the runway of New Delhi's Indira Gandhi Airport on Thursday, it was not to capture a terrorist or fleeing criminal mastermind, or even to apprehend an unruly passenger.
It was to arrest an opposition politician who had allegedly "disturbed harmony" — by misstating the Prime Minister's middle name.
Pawan Khera, the spokesperson for the Congress party, had been on his way to his party's national convention when he was forced off his plane and arrested by police.
His alleged crime? Disturbing communal harmony by making a jibe at Indian Prime Minister Narendra Modi, whom he had referred to on live TV last week as "Narendra Gautamdas Modi" in reference to embattled business magnate Gautam Adani.
Adani, seen as a close ally of Modi and one of the wealthiest people in the world, saw his net worth halved in less than two weeks last month after a report by financial research firm Hindenburg leveled allegations of stock market manipulation and fraud against the Adani Group. The Adani Group condemned the report as "baseless" and "malicious."
Police from the state of Assam said they had deployed a team to New Delhi to arrest Khera for questioning after a case was registered on Wednesday for his "objectionable remarks about the Prime Minister."
"[Khera] was trying to disturb the communal harmony in society, (according to) sections of the Indian Penal Code under criminal conspiracy," Prasanta Kumar Bhuyan, Assam police spokesperson, told CNN.
But the arrest of Khera has set the stage for a dramatic showdown between India's ruling Bharatiya Janata Party (BJP) and the Congress party, which has accused the government of stiffling dissent in the world's largest democracy of 1.3 billion people.
Scores of Congress politicians responded to the arrest by sitting on the airstrip in protest. Khera was released hours later, after India's Supreme Court ordered him to be released on interim bail. But his brief detention set off a media frenzy in the country, dominating prime time news and headlines.
Speaking to reporters after his release on Thursday, Khera said he was "asked to deplane as if I was a terrorist."
"This is not the only example of people's rights and liberties being curtailed. Today it's me, tomorrow it could be anyone," he said.
Congress member Supriya Shrinate, who was traveling with Khera at the time of his arrest, added, "If this isn't tyranny, then what is?"
The Congress party said in a statement that Khera's arrest was "undemocratic," and "arbitrary," adding: "We vehemently oppose this dictatorial behavior."
"This charade is not going to deter us from raising questions" about the Adani group and its alleged ties to Modi, it said.
CNN has contacted a BJP national spokesperson for a comment but has not yet had a response.
Speaking to Indian news channel NDTV late Thursday, the BJP chief minister of Assam, Himanta Biswa Sarma, said: "Police have all the rights to arrest (Khera).
Khera's arrest comes weeks after the country banned a documentary from the BBC that was critical of the Prime Minister's alleged role in deadly riots more than 20 years ago. Indian tax authorities raided the BBC's offices in New Delhi and Mumbai earlier this month citing "irregularities and discrepancies" in the BBC's taxes. The BBC defended its documentary and said it was complying with the tax investigation.
Days before Khera's arrest, Sarma, the Assam chief minister, had warned there would be consequences to his remarks about Modi.
"India will not forget or forgive these horrible remarks of Congressmen," he wrote on Twitter on Monday.
CNN has not yet been able to reach Khera and his lawyers.