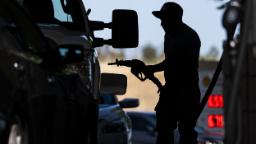 New York
CNN
 — 

For Ukraine, the year since Russia's invasion has been one of widespread death, destruction and displacement, as millions had their lives changed forever. Americans got off easy by comparison, with most feeling the impact of the war only at the gas pump.
But the effect on Americans was far less than it was across Europe, where energy prices for driving and heating climbed much higher. Still, Americans have paid a price for the war, and for the sanctions that the United States and its allies imposed upon Russia after its invasion.
Since Russia is one of the world's major oil exporters, the sanctions riled global energy markets, where the price of oil is set.
US gas prices shot up $1.48 a gallon, or 42%, to a record $5.02 between the day before Russia's invasion a year ago and the record price reached on June 14.
That peak was short-lived — the national average price of gasoline, as tracked by OPIS for AAA, fell continually for 98 straight days starting right after that record was reached in June until September 20. On Friday, the one-year anniversary of the invasion, the national average stood at $3.39 a gallon, compared to $3.54 on the day the war started.
But even with the steady decline since that June record high, US drivers spent $528 billion on gasoline last year, up $120 billion from what they spent in 2021, according to OPIS. That works out to about $900 more per US household.
Last year's total is nearly double the amount spent on gasoline in 2020, when stay-at-home orders and massive job losses in the pandemic's early months crashed demand for gasoline and sent prices plunging. Even compared to pre-pandemic 2019, the amount spent on gas last year jumped $156 billion, or $1,200 per household on average.
A number of factors have coincided to bring prices steadily lower since then. Now, a year after the start of the war, crude oil prices on global markets and the retail price of regular gas across most of the United States are below pre-war levels.
And forecasts suggest they will stay that way going forward. OPIS expects the average price throughout the course of 2023 to come in around $3.45, down from $3.96 last year. Even some higher forecasts, such as one from Goldman Sachs, estimates an annual average of $3.87 this year.
To understand why they're down, it's important to understand why they went up so much and so fast.
Crude oil prices are determined on global commodity markets. And to some extent, those markets overreacted to the start of the war.
"The market's reaction was due to uncertainty," said oil analyst Andy Lipow. He said that those trading oil futures thought the global market would have to find a replacement for all the Russian oil when there wasn't an alternative available.
But Russian oil shipments continued even with the sanctions, although they were redirected elsewhere. Instead of sending much of its oil and refined products to Europe, Russia sent them to countries like China, India and Turkey.
And the sanctions never completely shut down the shipments of oil to Europe, although a price cap limited the shipments and the amount that buyers in those countries would be willing to pay.
So the sanctions achieved the goal of reducing the revenue Russia got from oil sales.They also they allowed global prices to retreat from the June peak.
"There was a belief Russian production would be crimped. But its production is close to what it was a year ago," said Tom Kloza, global head of energy analysis for OPIS.
In addition, the United States and its allies announced in March they would start releasing oil from their stockpiles of crude, such as the US Strategic Petroleum Reserve, putting downward pressure on prices.
Oil is traded globally in US dollars, and the strong dollar that benefitted from the Federal Reserve's historic interest rate hikes helped to limit the effect of the price hikes on US consumers, even as drivers who pay in other currencies had to spend far more.
Few things take a bite out of gas prices like a recession, or even just the fear of one. People who lose their jobs don't have to commute andpull back their spending on discretionary items like travel. Consumption falls, followed by prices.
A prime example of this took place during the Great Recession 15 years ago. The average price of a gallon of regular gas hit a then-record of $4.11 in early July 2008, according to OPIS data. Six months later, following the meltdown in financial markets, and massive job losses, it was down 61% to $1.62.
RIsing fears of a global and US recession roiled markets in late 2022, pushing down the price of oil futures. Fears of a US recession have receded recently, with very strong reports on US job growth and retail sales, but they're not gone — particularly not with the Fed expected to continue raising interest rates.
Finally, while many of the restrictions on daily activity imposed during the pandemic have disappeared in the United States and Europe, China lockdowns in late 2022 hurt worldwide gasoline consumption, and with it global prices. China has since reopened but whether it stays open remains to be seen.
By the end of November, the national average price for a gallon of regular had fallen below the $3.53 average on Feb. 23, 2022, the day before the invasion. It has remained below that mark ever since, even though it's up a bit from the post-invasion low of $3.10 a gallon in the week around Christmas. That is typically a time period that sees the lowest pump prices of the year.
Of course, the national average might not have much to do with what the stations near you are charging. There's a wide variation in prices, with Western states, particularly California, paying much more because of a drop in refining capacity there and tougher environmental rules.
"It's easy to say we're not going to match last year's prices," said Kloza. "It might be a year when California is paying $6, and Texas is at $2.99."