Editor's Note: Sign up for Unlocking the World, CNN Travel's weekly newsletter. Get news about destinations opening, inspiration for future adventures, plus the latest in aviation, food and drink, where to stay and other travel developments.


CNN
 — 

It was "Rail Force One" – the overnight train that took US President Biden on a diplomatic odyssey from Przemyśl Główny in Poland to Kyiv for his historic visit to Ukraine, just before the first anniversary of Russia's invasion of the country.
The 10-hour overnight journey was a top secret, high security challenge for Ukrzaliznytsia, or Ukrainian Railways – the state-owned operator of Ukraine's rail network. But it was hardly their first.
With commercial air links into Ukraine canceled, and the skies too dangerous to fly politicians in and out of the country, Ukraine's rail network has become the country's diplomatic highway. Over 200 foreign diplomatic missions have arrived in the country by train so far.
World leaders including Canada's Justin Trudeau, the UK's Rishi Sunak, France's Emmanuel Macron and Italy's Giorgia Meloni have all taken the train to Kyiv. In fact, Japanese Prime Minister Fumio Kishida is the only G7 leader yet to visit the country by train.
Ukraine's President Volodymyr Zelensky is a regular user of the railway network on his diplomatic missions abroad.
But there's more to the railways than "Rail Force One," as Biden's train was dubbed.
The US president's high profile journey has shone a spotlight on Ukraine's vast rail network which, at nearly 15,000 miles, is the 12th largest in the world.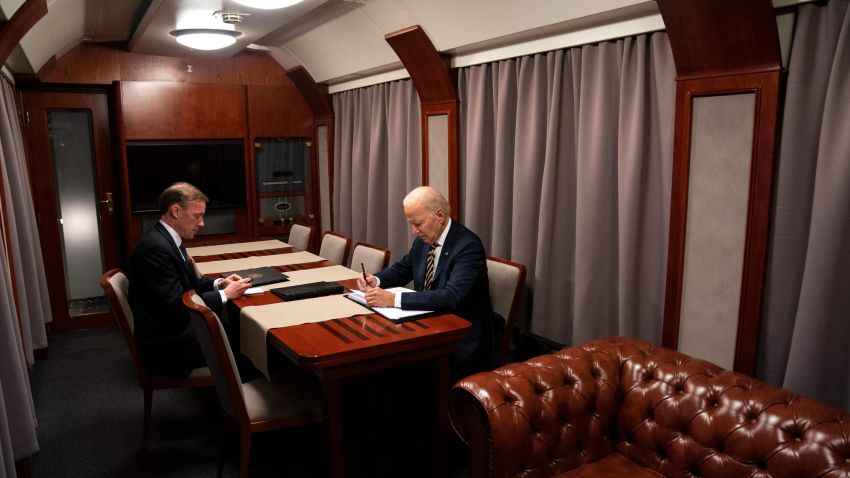 Train transporting Biden in Ukraine now dubbed 'Rail Force One'
Ukrzaliznytsia is the sixth largest rail passenger transporter in the world, and seventh for freight.
First constructed in pre-Soviet times, its network is predominantly a broad gauge railway – different to the standard gauge, which most of Europe uses.
And while Ukraine forces have destroyed the cross-border links to Russia, the rail network still connects with other countries – although the differing gauges mean trains can't generally cross the border. To deal with this, over the past year they have rebuilt sections of previously defunct lines to neighboring countries including Moldova, Poland and Romania. Infrastructure has been repaired at 11 border crossings.
This isn't just about making passenger journeys easier. It's crucial for freight – and for much of the world, which relies on Ukrainian produce, including grain. In 2022, 28.9 million tons of grain were transported via the railways, most of which was exported. In total, just under 60 million tons of goods were exported from Ukraine, according to Ukrzaliznytsia.
And in total, the company transported 17.1 million passengers via long-distance trains during 2022. These are predominantly sleeper services.
"Before the war, we had planes, cars, buses and trains," Ukrzaliznytsia's CEO Alexander Kamyshin told CNN Travel. "Now we've got trains and cars, no airplanes. And we're a large country. So to get from Kyiv to west, south or east Ukraine, sleeper trains are the best way to do it. You go to the train in the late evening, travel the whole night, and in the morning you are in the city you need to be. So you don't waste time.
"It was comfortable before the war, and now it's comfortable and safe. Trains are very important."
Of course, most of the pictures we have seen in the past year of Ukrainian Railways are ones of refugees. Ukrzaliznytsia says it helped four million to safety in 2022, a quarter of whom were children.
Some trains were also reconfigured as medical facilities. Around 2,500 civilians were evacuated for medical treatment via rail last year. The network also transported nearly 336,000 tons of humanitarian aid.
It's an immense responsibility for Kamyshin, who started with the company just six months before Russia invaded. "I joined with the problem to develop the company, green-light new projects, renew the fleet and it was all about building and construction, and procuring new stuff. But a year ago we had to change to war time, and war rails," he says.
Perhaps the most extraordinary part of Biden's journey to Ukraine was the light that it shed on just how smoothly Ukrzaliznytsia operates.
Kamyshin apologized in a tweet that, because of Biden's complex journey, "only 90% of our trains ran on time yesterday."
That caused hollow laughter in Biden's America, where Amtrak is infamous for its late-running passenger trains.
Amtrak's latest on-time performance figures, looking at June 2022, show that on average, just over 22% of trains ran on time across the US. Some areas have reversed Ukraine's statistics, with more than 90% of trains arriving late.
In the UK – which has sent two prime ministers to Ukraine by train – just 67.7% of trains run on time, according to the latest data.
That's no surprise to Ukrainians. The train services have always been excellent, says Kyiv resident Alla Penalba.
"I've always taken the train when traveling around Ukraine," she says. She's a particular fan of sleeper services. "It's convenient – you board in the evening and in the morning you're on the opposite of the country. Even before 2014 [when Russia invaded Crimea] the journey to Crimea from Kyiv was more convenient by train. It took 20 hours, but you sat down, then went to sleep – it was pretty comfy."
Penalba says that because low-cost airlines entered Ukraine later than in the rest of Europe, the country retained its network of night trains, with limited domestic flights.
Even when the budget airlines did arrive – she reckons that from 2016 there were more viable options to fly cross-country – she didn't bite.
"I could fly to Odesa from Kyiv but still I'd think, OK, I need to go to the airport two hours in advance, if you live on the opposite side of Kyiv it can take an hour to get there – so that's three hours plus the flight. Ultimately it's more convenient to take the train at 11 p.m., sleep, and arrive at 7 a.m."
Penalba left Kyiv with her family on the second day of the 2022 invasion, driving to France, where her husband is from. But she returned alone in the summer to take care of personal business, and to see if it felt safe to move back.
On her way into Ukraine, she took a flight to Poland and then a bus to Kyiv: "A terrible experience, I hate long bus journeys."
On the way back, she took the overnight train to Poland: "It was the best experience out of two days of travel."
When the family moved back to Kyiv, in August 2022, they again took the train from Poland, getting a second class, four-berth compartment for her, her husband and their two kids. Their only stress? The Polish train was delayed by three hours. Unlike the Ukrainian one.
"I was amazed and pretty proud," says Penalba.
Visitors to the country are equally amazed – starting with Penalba's husband, who moved from France in 2015.
"He's always saying that Ukrainian trains are pretty great compared to the ones in France," she says. "He didn't use trains there because they were too expensive. Here they are accessible for everyone."
A cross-border train to Poland costs around 50 euros (about $53) for a lie-flat bed in a four-person, second class berth, and Penalba says that domestic routes are even cheaper – around 15-30 euros. "First class would be around 40 euros," she says.
Koen Berghuis, editor-in-chief of train specialist travel website, Paliparan, is another fan. Based in Romania, the Dutch national takes around half a dozen long distance or overnight trains per month, and before the war, traveled to Ukraine over 10 times.
For him, if you're comparing punctuality, Ukraine's railway system is "better than Germany's."
"They're doing a remarkable job – even now, trains are running more or less on time," he says.
Astonishingly, Penalba reckons the system has got "more efficient" since the Russian invasion.
In August 2022, Ukrzaliznytsia launched an app, and started taking online bookings. "I can buy tickets in a few clicks now," she says.
Kamyshin says that the only real change to the service in the past year is that trains run at slightly reduced speeds now. "It's not much slower, but we slowed them down deliberately to make it safer in case of something [happening]."
Of course, politicians don't travel in third class. Kamyshin won't reveal details of the service they do get, but he says that "guests of iron diplomacy," as he calls them, "usually spend more time on the train than in the city."
"That's why the way we treat them is really important, he says."
But it's not just about treating them right. The trains also convey "the messages that we would like to send them," he says.
"We are delicate and we'll always treat all of our guests properly, but these things help them understand what we expect from them – like iris flowers or leopard print clothes."
A vase of irises was put in the train for the visit of German President Frank-Walter Steinmeier, whose country agreed to supply an air defense system called Iris-T. For another politician, staff wore leopard print accessories, in a nod to the Leopard-2 tanks Ukraine was requesting from the country in question. Kamyshin won't say who that was, but Poland and Germany have also donated Leopard-2 tanks, with Germany pledging more on the first anniversary of the invasion.
Rail travel in Europe has always been popular, of course, and the climate crisis is making it increasingly so. Berghuis thinks that Ukraine can teach other rail networks a thing or two.
"The main difference to other European countries is the sheer scale of Ukraine as a country," he says.
At the start of last year, he took the Rakhiv-Mariupol sleeper train – Ukraine's longest passenger train route before Russia's invasion. At 1,806 kilometers, or 1,118 miles, it took just under 29 hours, crossing 12 "oblasts" (regions).
"It was basically the same as Amsterdam to Lisbon or Athens, or New York to Kansas City," he says. Except passengers on those type of routes would, of course, usually fly.
Ukraine's size means that its "huge" rail network has "always been a lifeline to Ukrainians – it's a very important piece of infrastructure," he says.
That's why the Ukrainians are leaping into action if any of the line is damaged during the fighting. When the southern city of Kherson was liberated, the trains were running into the city again just eight days later.
"It's incredible," says Berghuis.
"It's hugely important for them, for keeping the country united, ensuring people can visit families and friends, for freight and for the postal network. They use trains to deliver some pensions.
"It's also for PR, because everything is PR in a war – they're showing Russia, 'Hey, even in these circumstances we manage to run trains. Even if there's no electricity, it doesn't matter, we can use diesel or steam locomotives.' But the rail network is also a lifeline in many more ways than we can imagine."
And while Europe is going through a sleeper train "renaissance" at the moment, Berghuis says that Ukraine is a great example of how to run a night train network.
There are generally three classes to a sleeper, he says, with each carriage having its own attendant. They're there to give passengers their bedding, take orders for snacks and tea, and make sure passengers get on and off at the right stations. But they're also there for security – especially important when you're sleeping in an open cabin of 50-odd berths.
Yes, 50-odd – that's what you get in the third class carriages, which are essentially wagons of bunkbeds which double as seats during the daytime part of the trip.
"The attendants keep an eye out for everyone in their wagon – they're proud of what they do," says Berghuis. Not that they really need to. He says that third class carriages are "part of the fun, with people happy to share their food, stories, try and talk – even if it's with hand gestures."
Second class gets you a space in a four-berth couchette, while first class is fancier.
The stations are also worth visiting, says Berghuis, who singles out Kyiv and Lviv as two of the most beautiful historical stations in Europe, and loves Odesa for its "seaside, holiday vibe."
So what's the future for Ukrainian Railways? This is a company that hasn't just kept going during the invasion – it has made improvements, too.
In 2022, the country took possession of 65 new passenger rail carriages, bought two new diesel trains, and even found time to refurbish other trains in the network. They constructed new freight cars, and repaired others.
They launched six new international rail routes, to destinations in Poland and Moldova, and seven domestic routes. The company also electrified more track than they had done in the past decade.
The company even debuted a new onboard menu. Passengers can now enjoy "designer teas" and "natural ground coffee."
Tragically, 319 railway workers died in 2022, and 703 were injured. The company has launched an "Iron Family" program to support their families.
For 2023, the company predicts a loss of 20.2 billion hryvnia – or $549 million. Yet it is looking to the future. In May 2022, "Children's Railways" – where kids can learn about locomotives – opened in Kyiv and Rivne. Around 1,300 children are already studying at the two centers.
With the climate crisis intensifying, Kamyshin thinks Ukrainian Railways can teach other countries' rail networks a few things. "The whole world should pay more attention to overnight sleepers," he says.
"It's a really efficient, comfortable way of transportation. And governments should review their relationships to railways. Railways are important, especially in a big crisis."
In fact, Penalba said she was "shocked" to see people flying than taking the train when she first started traveling around the rest of Europe.
"There's a lot of talk around ecology, but planes are cheaper and night trains are especially expensive, so it's cheaper to fly," she says.
"I'm used to [shorthaul European flights] now, but it's still shocking. It'd be much more convenient if trains in the rest of Europe were as affordable and easy as in Ukraine."