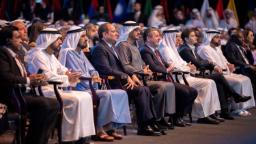 Editor's Note: A version of this story first appeared in CNN's Meanwhile in the Middle East newsletter, a three-times-a-week look inside the region's biggest stories. Sign up here.

Abu Dhabi
CNN
 — 

Egyptian President Abdel Fattah el-Sisi last month sent a message to his Gulf allies. "The most important point here is support from our brothers," he said at the World Government Summit (WGS) in Dubai, where he was guest of honor.
He was referring to the tens of billions of dollars in bailouts his country has received from the wealthy Gulf monarchies over the past decade.
The Gulf creditors are however changing the way they lend financial support to their North African ally, moving away from loosely conditioned handouts and central bank deposits and toward taking sizeable stakes in some of Egypt's trophy assets. Many of those assets have long been under the control of Egypt's military, an economic behemoth and the backbone of Sisi's power.
The nation is seen by its neighbors as vital to regional stability and has often found a helping hand from richer Arab states. This time, however, Gulf Arab allies – especially Saudi Arabia and the United Arab Emirates – want to see returns.
The apparent shift in policy was clearly expressed by Mohammed Al-Jadaan, the finance minister of Saudi Arabia, one of Egypt's biggest benefactors, at the World Economic Forum in Davos, Switzerland in January.
He said they used to give direct grants and deposits "without strings attached," without specifying the recipients, according to local media. "We're changing that as we're working with multilateral institutions to actually say we want to see reforms," he added.
The Gulf's new approach to aid comes as Egypt readies itself for difficult economic reforms after its latest $3 billion loan agreement with the International Monetary Fund (IMF), which analysts say was heavily influenced by Gulf Arab countries.
Egypt had turned to the IMF three times for bailouts in the last six years before the latest round. By the first quarter of the current fiscal year, the country had amassed $155 billion in external debt, according to state media. That's equivalent to about 86% of its annual economic output.
A country of 106 million people, Egypt is today suffering from a currency crisis and pinching inflation, leaving millions of citizens unable to afford basic staples. Inflation is at a five-year high and the Egyptian pound has lost nearly half of its value in a series of devaluations since March 2022.
Last year alone, Gulf states pledged $22 billion to Egypt as it faced an economic crisis caused partly by the fallout from the Ukraine war, Reuters reported.
Jamal Saif Al Jarwan, Secretary General of the UAE International Investors Council (UAEIIC), a grouping of the UAE's largest international investors, told CNN that Egypt was "too important to fail" and would always have the UAE's support. But he said repeated requests for help could test its patience.
"Coming back again and again and again (for loans), you might lose face for one thing, and secondly you might lose credibility," he said.
In its last IMF agreement, Egypt agreed to a number of unprecedented reforms – including reducing the state and the military's footprint in the economy and subjecting state and military-owned enterprises to mandatory financial disclosures.
It also promised to adopt a flexible exchange rate and put stakes in several key state enterprises up for sale.
Progress to fulfill these conditions has been slow, however, and analysts say that pushback from the military – the establishment that could emerge as the biggest loser in the IMF agreement – could be the culprit.
"Inside Egypt, the regime is clearly conflicted," said Timothy Kaldas, deputy director of the Tahrir Institute for Middle East Policy in Washington, DC.
"The military obviously has gained the most and so has the most to lose from a deal like this," Kaldas told CNN. "But also, Sisi at the end of the day needs to keep the backbone of his regime united behind him."
"I imagine that's what they are negotiating now, who is going to have to give up what, and where does the burden fall," he said.
Last month, the Egyptian cabinet said it will sell stakes in 32 state- and military-owned companies over the next year, including prominent banks and at least two military-owned firms.
"Egypt needs to do reforms … and sometimes the reforms may not be too popular," said the UAE's Jarwan, adding that the military's resistance is only natural, but that it will embark on privatization to save the economy. The changes will make the country "much stronger, more disciplined, more reformed," he said.
Jarwan said the UAE is watching Egypt's privatization efforts "very closely" as it wants to increase its investments in the country to $35 billion from the current $20 billion over the next 5 years, and hopes to eventually go far beyond that figure.
Analysts say that Egypt was pushed by Gulf states to accept the IMF's conditions, especially those on privatization.
The UAE doesn't interfere in Egypt's negotiations with the IMF, said Jarwan, but added that the Egyptians "do listen to us very closely."
Egypt's military has "acted like a private sector" for years to prop up the economy and it is now time for it make room for privatization as Egypt enters "the next wave of capitalism," he said.
But not everyone is eager to see increased foreign investment from the Gulf. There has been concern among Egyptians who are unhappy to see state assets sold to neighbors.
"There is already concern in Egypt about the extent to which the state is basically being sold off (piece) by piece to the Gulf," said Kaldas.
Abdulkhaleq Abdulla, a political science professor in the UAE, says Egyptians' fears are unfounded.
"Every now and then, there are those who are protective of Egyptian companies," he told CNN. Critics, he said, disregard the benefits that are to come.
"I think they (critics) do not understand that investments bring not just money, but (also) technology, expertise, and (they) open up the country," he said, adding that the UAE is a committed ally to Egypt.
Egyptian officials have repeatedly said that after the 2011 uprisings, the private sector could not shoulder the burdens that followed, which compelled the state and military to step in.
Egypt's foreign press center didn't respond to CNN's request for comment.
Selling state assets is Egypt's only way out of its economic crisis, analysts say. And the most likely buyers are expected to be foreign investors, mainly from the Gulf.
"Is there a mechanism bailing Egypt out without Gulf money? Not a realistic one," said Kaldas. "They (Egypt) are really stuck, and functionally, this regime under Sisi could be responsible for severely weakening Egypt in a geopolitical sense because of its financial weakness."