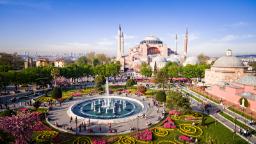 CNN
 — 

It's been nearly a month since a 7.8-magnitude earthquake struck Turkey and Syria, claiming the lives of thousands of people and injuring many more.
The devastating impact of the events, and the aftershocks that have followed, have left many travelers who had been planning to visit the country in the coming days, weeks, or even months, with questions.
Now in a three-month state of national emergency, Turkey is a major tourism destination, attracting 44.6 million foreign arrivals in 2022, according to Turkish government statistics.
Many would-be visitors will have been headed to key resorts and cities, particularly in popular coastal winter sun destinations.
The quake hit near to the town of Gaziantep in southeast Turkey, close to the Syrian border, at around 4.17 a.m. local time on February 6, leading to over 6,000 buildings collapsing.
While international travelers have been advised against traveling to the affected areas, travel to the leading tourism destinations – mostly far from the quake-hit areas – remain unaffected for the most part. But there will inevitably be some impact.
Here's what we know:
Approximately 10 Turkish provinces were impacted by the quake, which was one of the strongest to hit the region in more than a century – Adana, Adiyaman, Diyarbakir, Gaziantep, Hatay, Kahramanmaras, Kilis, Malatya, Osmaniye and Sanliurfa.
The ancient Gaziantep Castle, one of the Turkish city's most renowned landmarks, was severely damaged due to the earthquake.
The city of Aleppo, already ravaged by 11 years of civil war, was among the most affected areas of northwestern Syria, where more than four million people were already relying on humanitarian assistance.
International airlines have been operating flights to and from Turkey as normal since the earthquake.
Three airports – Turkey's Adana Airport (ADA,) Hatay Airport (HTY) and Gaziantep Oğuzeli International (GZT) Airport – were briefly shut after the quake. However, all have since reopened.
Istanbul Airport, Turkey's main international airport, has continued to operate as normal.
Turkish Airlines, the national flag carrier airline of Turkey, is allowing passengers to either rebook, or obtain a refund on domestic and international flights to or from "earthquake afflicted areas"on flights scheduled from February 6 to March 31, provided they were booked before February 9, 2023.
There's no indication that any travel to Turkey's major tourism destinations has been majorly disrupted and most are able to welcome visitors as normal.
Ali Kutuk from Likya Nature Travel, a travel agency based in Antalya that offers trekking tours, told CNN Travel that the agency had so far had just one group booking cancellation, and one rebooking as a result of the quake.
"We have [had] some impact on recent tours," he says, before stressing that he is not expecting the situation to affect summer bookings and local people are still making travel plans within the country. "I continue to have reservations for summer."
Antalya is around 594 kilometers (369 miles) away from earthquake zone city Gaziantep by air. Istanbul is about 850 kilometers (528 miles) away. Other major tourist destinations such as Cappadocia, Canakkle, Bodrum and Marmaris are also far from affected areas.
While various governments, including the US and the UK, have urged travelers to avoid specific areas impacted by the earthquake, citizens are not being advised stay away from unaffected areas in Turkey at present.
Most of Turkey's leading tourism destinations are continuing to welcome visitors. For many in the country, the recent earthquake has made it more imperative that people continue to travel to Turkey's unaffected areas for their vacations.
Many people in Turkey are dependent on tourism revenues and, after being affected by pandemic shutdowns in recent years, were banking on a resurgence in visitors until the quake hit.
In 2021, Turkey's travel and tourism sector contribution to GDP was $59.3 billion, according to the World Travel & Tourism Council.
The World Bank says that the quakes have caused around $34 billion of direct damage in Turkey.
The International Federation of Red Cross and Red Crescent Societies (IFRC) have launched two emergency appeals with a total value of 200 million Swiss francs (around $214 million) to help relief efforts in both countries.
There are many other organizations who are also on the ground responding. You can help by clicking here.