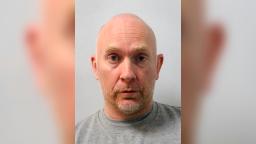 London
CNN
 — 

Wayne Couzens, the former London police officer who abducted, raped and murdered Sarah Everard in 2021, has been sentenced to 19 further months in prison for indecent exposure incidents that took place while he was serving in the force.
Couzens, 50, was already serving a life sentence without the possibility of parole for the killing of 33-year-old Everard, which sparked outrage towards the Metropolitan Police and began a national debate about violence against women.
He was additionally sentenced on Monday for exposing himself to women on three occasions in the months prior to the murder. Two occurred at a fast-food restaurant – the latter of which was just days before he murdered Everard – and another took place while Couzens was on shift with the police.
Couzens appeared via video link from prison during Monday's hearing. The court heard that he stepped into the path of a female cyclist while naked and masturbating, in a woodland area of Kent in November 2020, while he was supposed to be working from home.
Then, on two dates in February 2021, Couzens displayed his erect penis to staffers at a fast food drive-through, while picking up food in his car.
The second incident took place on February 27; days later, on March 3, Couzens kidnapped Everard in south London.
On Monday, Couzens also pleaded not guilty to a fourth indecent exposure charge from an alleged incident in June 2015. The UK news agency PA Media reported that he will not face trial over that charge as it was left on file.
Confidence in the Met police force has plummeted following a series of scandals, including cases of violence against women and allegations of a misogynistic and protective culture among officers.
The crisis began after Couzens' murder of Everard, which stunned Britain and drew sharp scrutiny towards Scotland Yard. The 33-year-old was walking to her London home on March 3 when Couzens used his police identification and handcuffs to deceive her into getting in his car under the pretense that she had violated Covid-19 pandemic rules. He raped her and strangled her with his police belt later that evening.
Police were subsequently criticized for their heavy-handed tactics at a vigil for Everard in Clapham, south London, near where she went missing, and for not acting upon red flags in his behavior sooner.
Two police officers are currently facing misconduct hearings over their handling of two separate indecent exposure reports related to Couzens, the Independent Office for Police Conduct (IOPC) confirmed last month.
In January, former Met senior officer David Carrick admitted 49 offenses, including 24 counts of rape, over an 18-year period, sparking another round of anger. Critics have called for a root-and-branch inquiry into its the Met's operations and its process in dealing with complaints.
Met Commissioner Mark Rowley apologized for the failings that led to Carrick not being caught earlier, in an interview distributed to UK broadcasters in January.
Announcing a review of all those employees facing red flags, he said: "I'm sorry and I know we've let women down. I think we failed over two decades to be as ruthless as we ought to be in guarding our own integrity."
A report last fall found that when a family member or a fellow officer filed a complaint, it took on average 400 days – more than an entire year – for an allegation of misconduct to be resolved.