New York Giants quarterback Daniel Jones wanted to get paid and he did —handsomely. Big Blue gave the 25-year-old signal-caller a four-year, $160 million extension, while also placing the franchise tag on RB Saquon Barkley, according to reports.
One of the cardinal sins an athlete can make is being overpaid. It doesn't really matter how they got it — be it a holdout or an inept front office — if the fans don't think you're worth the salary cap hit, every complaint is punctuated with "… and we're paying him $150 million!" Tobias Harris is a solid role player, but Philadelphia 76ers fans will never let that contract slide. New York Mets supporters feel that way about literally everyone they sign. And we're nearing that point with the New York Giants and Daniel Jones.
The team didn't pick up Jones' fifth-year option before the season, he had a serviceable turnaround year under new coach Brian Daboll, won a playoff game, and was rumored to be looking for north of $40 million per year. Dimes even changed agents to show how serious he is about how delusional he is.
Being overpaid in a market like New York comes with a harsher spotlight than almost any other place, and it doesn't take much for fans and media to flip the narrative from overachiever to overpaid fall guy. Ask Julius Randle.
G/O Media may get a commission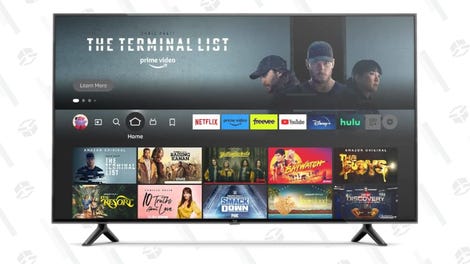 36% Off
Amazon Fire 50″ 4K Smart TV
So smart
This smart TV has Amazon Fire built-in, which means you can easily access loads of streaming services, has 4K visuals for stunning picture quality, and even works with Alexa too.
It appears signing Jones to a modest contract is a pipedream, and I'd love to hear Eli Manning's thoughts on if the G-Men should still give Jones that long-term deal. But he doesn't have a Lays product to sell this week, so you'll just have to settle with some guy on the internet making points and then expanding upon them.
Who are the other QBs getting $40 million on more?
The biggest buttresses to Jones' argument are guys like Matthew Stafford, Russell Wilson, Deshaun Watson, Kyler Murray, and even Aaron Rodgers. Jones arguably outplayed all of them a year ago, and no one on that list makes less than $40 million. However, all of those names got that money off from previous work, and the Browns are… the Browns.
The other guys that make that kind of money are Patrick Mahomes, and Josh Allen. Soon enough Joe Burrow and Jalen Hurts will join that club, and Jones will be left hanging out with Dak Prescott at the party, talking about what the media doesn't understand about their games.
Nothing Danny Spare Change has done is his career comes close to those quarterbacks' peaks, and I don't give a shit that Jones won a playoff game. He had one competent year, and still only managed 22 total touchdowns. There's no way in hell a front office, or coaching staff, looks at his resumé, and says with certainty, "We can win a Super Bowl with Daniel Jones."
Giving Jones the franchise tag messes with Saquon Barkley's future
The reason why Jones' contract negotiation is so crucial is that if they can't figure it out, he'll end up getting the franchise tag over Saquon Barkley. The star running back said he's approaching a new deal realistically, but even the most realistic offer will be an insult. There's more than enough evidence that giving running backs big money is a misappropriation of cap funds, and I don't think Giants GM Joe Schoen is a dullard.
If the Giants can't bring back Barkley, they could find a worthy replacement. That's usually how it works with running backs. However, if they fail to do so, and with the wide receiver market/draft class the way it is, the team could have an even bigger deficiency in play making than in 2022.
Eight of the Giants' nine wins last season were by one score, and the team is begging to be a regression candidate. They don't need to actively further that cause by losing their best skill player and/or quarterback.
The Giants have an out with Jones, and should explore it
I'm of the camp that finding a quarterback is really difficult, and constant turnover leads to a Jets or Browns-type situation where it's a self-defeating prophecy QB after QB after QB. So, if the Giants have to franchise tag Jones, and he's garbage next year, they need an insurance policy that's more bankable than tanking for Caleb Williams.
A guy like Hendon Hooker, the Tennessee QB who should have been at the Heisman ceremony even after tearing his ACL, is worth a mid-round pick and will need a year off. Let's say teams catch on to the read option stuff that Jones ran so well, and the Giants end up 6-11 or 7-10. If you franchise him, then there's an out or at least it's proof that he should rethink his demands, and have a willing backup with a great upside waiting in the wings.
The alternative — Jones building on last year and becoming a consistent enough guy to maybe steal a Super Bowl or two a la Eli Manning — is when you pay him $40 million, because it definitely shouldn't happen this offseason.