Last month, the WNBA's Seattle Storm was valued at a record $151 million as reported in the Wall Street Journal. The team isn't for sale, but investors can purchase one of 15 shares of the team, as it looks to finance a $64 million practice facility.
The first question any investor should ask is: What is the potential for a return on this investment? For women's sports, all signs are pointing well up. Fan interest, ratings, investment, and social media engagement are just the start of these kinds of metrics, and many franchises can be had for a fraction of what a men's franchise costs. While many professional men's sports franchises have maximized their value, women's teams are still of tremendous value given their potential.
The numbers show women's sports revenue is on the rise
There are a few ways to gauge whether true change is on the way for women's sports, and by far the most significant one of those is money. The WNBA recently closed a successful $75 million capital campaign. A recent CNBC story documents the major ad buys around women's sports. Ad buys have been a long challenge because networks aren't just about feeding audience interest with games, but about paying for that programming with traditional structures already in place.
Women in sports have been investing back in the game for the last few years in prominent ways – see Serena Williams, Naomi Osaka, Julie Foudy, Swin Cash and plenty of others. And there has been an accrual of value in the properties around women's professional franchises.
The Wall Street Journal reported that the National Women's Soccer League is in discussions to expand by three teams, and those franchises could go for $50 million each. The expansion cities are San Francisco, Boston, and Utah, which was the spot for the 2020 NWSL bubble during the pandemic. The Royals played in Sandy, Utah from 2018-2020 before moving to Kansas City to become the Current.
G/O Media may get a commission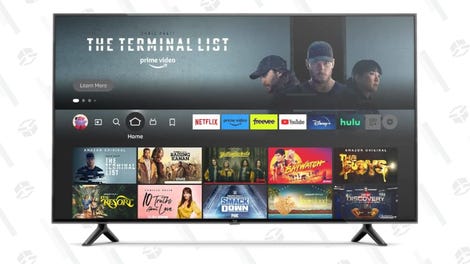 36% Off
Amazon Fire 50″ 4K Smart TV
So smart
This smart TV has Amazon Fire built-in, which means you can easily access loads of streaming services, has 4K visuals for stunning picture quality, and even works with Alexa too.
During the first 10 years of the WNBA, NBA owners played hot potato with franchises. Once the NBA stipulated that teams could be sold to non-NBA owners, many were put up for sale. Of the original eight teams, only three remain – New York, Los Angeles, and Phoenix.
And New York is now owned by Joeseph Tsai, after originally being affiliated with the Knicks and playing in Madison Square Garden. Tsai bought the franchise from James Dolan in 2019, after a "sales pitch" that included talk of what a losing investment the Liberty had been since the league started in 1997.
In one bit of WNBA trivia, one of Dolan's most insulting moves as Liberty owner was to try to rehabilitate Isiah Thomas' career by making him Team President of the Liberty. In 2006 a Knicks executive names Anucha Browne Sanders filed a sexual harassment and retaliation complaint against Thomas — a jury ultimately awarded her $11.6 million in compensation (the case was settled two months after the verdict to avoid any appeal). The move didn't go well for Thomas, and only added to the list of reasons Dolan might be the worst owner in professional sports – although there is tough competition in the category.
WNBA ownership comes with a social responsibility
Owning a WNBA team isn't like owning your run-of-the-mill men's franchise. Jerry Jones can do and say what he wants without having a Cowboy confront him publically about, say, a 1957 photo of Jones in the crowd as a group of white students protested the integration of an Arkansas high school. But in the WNBA, the Atlanta Dream wore "Warnock" T-Shirts warming up for a televised game in 2020 to show support for their then-owner Kelly Loeffler's opponent in the Georgia Senate race.
Owning a WNBA franchise comes with the expectation that you respect the players beyond their performance on the court, and for a league with so many women of color and members of the LGBTQ community, an owner needs to understand what that means.
Does that mean Elon Musk might not be the right fit for an expansion team? Possibly. But Mark Davis, a legacy NFL franchise owner bought the Aces last year, made new coach Becky Hammon the highest-paid in the league, and now has a WNBA championship in his portfolio.
Here's what Davis had to say about WNBA activism via NBC's On her Turf:
"The women showed me how to organize and do things the right way," said Davis. "Using your vote as a weapon was something that is talked about, but I hadn't seen it really be done in action. And I believe that women at the WNBA helped flip the United States Senate through the vote and doing it in the right way. And so I'm honored to be associated with women of this type."
Now that's a much better strategy for adding value to your franchise than Dolan's discussion about how much money the company lost just a decade earlier. Part of the way you convince people to value your WNBA franchise is to show them that you, the owner, value it as well. That's why Davis' decision to attend Game 4 of the WNBA finals to see his Aces, rather than the Raiders' home opener against the Cardinals, sent a message last fall.
Let the arms race begin.