The Boston Celtics have had a pretty shitty go of it the past week or so. They've lost four of five — two to the New York Knicks (one in double OT), one to the Brooklyn Nets (where they got booed off their home floor), and an OT loss to the Cleveland Cavaliers. The Celtics are now two games behind the Milwaukee Bucks for the one-seed in the East, a spot that Boston occupied pretty much since October.
On Monday, it seemed as if the Leprechaun was back on their side. In a tie game with Cleveland, who was the Celtics' lone win in the past five contests, Grant Williams was fouled with .8 seconds remaining. All he had to do was sink one of the two freebies, and the Cavs would've been in the unfavorable position of needing a bucket to go ahead or tie with less than a second to do it. Williams went as far as to guarantee Cavs star Donovan Mitchell that he'd hit both.
You should know what happens next because I wrote it that way, but if you don't, here it is.
G/O Media may get a commission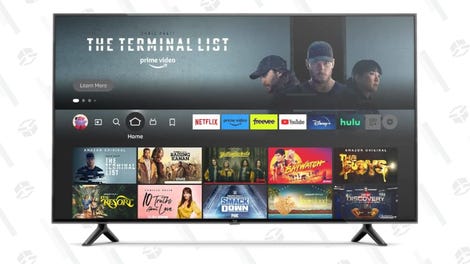 36% Off
Amazon Fire 50″ 4K Smart TV
So smart
This smart TV has Amazon Fire built-in, which means you can easily access loads of streaming services, has 4K visuals for stunning picture quality, and even works with Alexa too.
This recent run by Boston, and that hilarious fail by Williams, has inevitably sparked "What's wrong with the Celtics?" chatter. And if anyone in the New England area wasn't all the way out on Williams, those who had one foot out the door picked up their last appendage.
Grant Williams represents the Celtics' bigger problem — their bigs
While I am a Tennessee Volunteer apologist, I'm also out on Williams. He's a solid role player, but is too annoying to be this involved with Boston's rotation. There is some debate about who should be the team's point guard, but we more or less know Boston's best five is Jayson Tatum, Jaylen Brown, Marcus Smart, Al Horford, and Robert Williams.
The issue is they haven't played as much as a unit due to injuries (a lot of them to Williams) this year, or really since the big man went down before the playoffs a season ago. The front office attempted to bolster the frontcourt rotation before the year and at the trade deadline, but Danillo Galinari tore his ACL in the offseason, and Mike Muscala is only a rim protector in theory.
Donovan Mitchell puts Mike Muscala on a poster 📸 | NBA on ESPN
That leaves new coach Joe Mazzulla in a tough spot because it's hard to go away from a player who's been pretty good in Boston and is getting 27 minutes a night on a team that's 45-21. You can't be annoying and suck. That guy's name is Dwight Howard, and he's currently jacking threes in Taiwan.
Come to think of it, has the trade deadline passed in the T1 League? Can Boston and Taoyuan do a Williams-Howard swap? Dwight was rumored to be an option before the year, but my guess is the thought of a locker room with him and Williams made Brad Stevens want to quit for a promotion again.
Even though Boston added backcourt depth with Malcolm Brogdon, and Tatum has taken another step, their hopes of winning an NBA title and exceeding last season's mark depends on which frontcourt shows up. And right now, dislike it or loathe it, Williams is a part of that equation.