Day 3 of the 2023 NFL Combine is often only talked about in regard to the quarterbacks. With so many big names at the position in the upcoming draft, it's easy to understand why. There are four quarterbacks who could go in the top 10, so it stands to reason that all eyes would be on the likes of C.J. Stroud, Bryce Young, Will Levis, and Anthony Richardson. That said, another player stole the spotlight for a moment when the sled got pulled out.
That is Georgia tight end Darnell Washington. Some people project him to be a first-round pick. It's easy to see why, right? Look at that monster of a man push through that sled like it was a stone on a sheet of ice, no issues at all. Then, when you compare it to the other tight ends, it only gets more impressive. Those other guys struggle to push it three or so yards. Washington pushes it back five with ease.
I've seen this video everywhere lately. I can't open Instagram, Twitter, or TikTok without seeing people obsessing over it, and calling this display of strength mind-boggling. It's not though. What's going on here is very clear.
His biggest strength is his ability to run block
Washington is already projected as one of the top tight ends in the upcoming draft. Arguably, his biggest strength is his ability to run block. He's no slouch as a pass protector either. He doesn't need to prove anything to scouts. It doesn't matter what he did in this sled drill. Everyone knows what he's capable of. When he steps up to the sled, he puts his hands much lower than the makeshift shoulder pad area where players' hands are supposed to go. You can see, where Washington's hands never touch the black foam toward the back of the mannequin, the others' hands are gripping higher, around the blue foam with their fingers touching the black. That is a textbook blocking technique. That's where you want your hands to be.
G/O Media may get a commission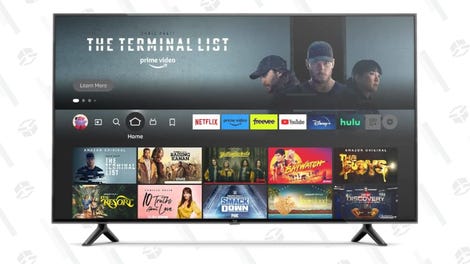 36% Off
Amazon Fire 50″ 4K Smart TV
So smart
This smart TV has Amazon Fire built-in, which means you can easily access loads of streaming services, has 4K visuals for stunning picture quality, and even works with Alexa too.
Here's a YouTube video starring Hall of Fame tackle Orlando Pace as he talks about proper blocking technique. In just the first few seconds of the video, you can see Pace mime where he'd want his hands to be against a defender. Lo and behold, it's up around where the chest meets the shoulders. That's not where Washington had his hands. If the blocker's hands are too low, the defender's hands are going to be freed up. As a blocker, you never want to give the defender free range of motion to slap your hands away or toss you around.
Better technique from another TE
Ironically enough, the best technique came from the second guy in the video who starts low and drives up into the "defender," even if he didn't push the sled back as far as the others. He used techniques that would work best at the next level. Washington, on the other hand, was placing his hands where it would be easiest to push the sled back. It worked in the drill, but it won't work against actual competition.
Washington did display great strength and balance though. He keeps his hips low and behind him the entire time, but he doesn't block like that in games. Go back and watch some of his blocking highlights. Against actual competition, he keeps his hands high, around the chest and just below the shoulders, where they are supposed to be. For example, against Auburn this year, Washington absolutely handled the Tigers' Derick Hall — who is projected by some to be a first-round pick this year — whenever he was put to the task. In almost every instance you can see, Washington keeps his hands around the chest plate, not low around the waist, and he often beats Hall because of that hand placement.
Washington is undoubtedly a great blocker. That's easily his biggest strength as a football player, but the drill we saw at the combine is not indicative of what Washington brings to the table. In actuality, he's much better than that drill shows, and that's scary to think about.