For much of the past year, Jalen Williams has been an underground jewel for NBA mole people. He won't be discussed on First Take because he came from a mid-major and got jammed into one of the NBA's smallest media markets.
Back in October, I predicted he'd be the Oklahoma City Thunder's best rookie, but he's surpassed those heights. Williams was the type of subterranean prospect who had star qualities. It was just a matter of how long it would take for him to figure it out. After three seasons at Santa Clara, the 6-foot-5 do-it-all wing was unheralded. However, during the draft evaluation process, his stock exploded. Nobody was more enthralled by him than Thunder president Sam Presti, who drafted him 12th overall, which was a few picks earlier than most projections had him going.
Williams quickly reassured Presti that his gamble would pay early dividends during the preseason when he shot 61 percent from the field while depositing 14.4 points, 5.2 assists, 3.0 rebounds, and 1.8 steals per night. However, Williams still had to earn his place in a crowded regular season rotation. He quickly separated himself from the field there too.
And even then, minutes didn't guarantee him a central role in the lineup. There have been spurts where Williams took center stage, but for the most part, he rode a backseat to Shai Gilgeous-Alexander and Josh Giddey in the Thunder's lineup.
By December, Williams had shifted into the starting 5. Every month since then, Williams' productivity has been on the rise. What started as a rookie taking his first steps, progressed into a sprint, and over his last 10 games, Williams has soared.
G/O Media may get a commission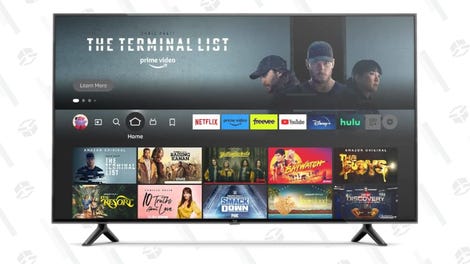 36% Off
Amazon Fire 50″ 4K Smart TV
So smart
This smart TV has Amazon Fire built-in, which means you can easily access loads of streaming services, has 4K visuals for stunning picture quality, and even works with Alexa too.
Jalen Williams numbers by month
November: 10.9 points, 2.6 assists, .5 steals, 51.1 FG percentage
December: 12.3 points, 2.7 assists, .6 steals 50.4 FG percentage
January: 13.6 points, 3.1 assists, 2.0 steals. 51.3 FG percentage
February: 4.9 points, 3.9 assists, 2.2 steals, 50.0 FG percentage
Last 10 games: 19.7 points, 4.7 assists, 2.1 steals, 58 FG percentage
Compared to No. 1 pick Paolo Banchero
In terms of volume, the No. 1 pick in the 2022 Draft, Paolo Banchero possesses superior counting stats, registering 20 points a night, but his scoring takes more effort. On the cellar-dwelling Orlando Magic team, Banchero's been given free rein to stretch his wings, make mistakes, and been positioned as the top dog from day one.
No one is competing with Banchero for shots on Orlando. As a result, he leads the Magic in field goal attempts, while ranking 18th among rooks in field goal percentage as a 6-foot-10 scorer.
Williams, 21, measures 6-foot-5, but uses his body, change-of-pace, and understanding of attack angles to play much taller. The most glaring measurables he flexes to his advantage is his 7-foot-2 wingspan, which he utilizes to pterodactyl shots over defenders or to bother shooters.
That versatility has allowed Thunder head coach Mark Daigneault to start Williams at power forward. He's begun clearing expectations all while still perfecting his mechanics from beyond the arc. At Santa Clara, Williams capped off his college career by shooting 40 percent from distance as a junior. Following a slow start in the preseason and to his regular season career, Williams has rediscovered his stroke from deep.
Jalen Williams' 3-point shooting percentage by month
November: 29.3 percent
December: 31.6 percent
January: 32.5 percent
February: 37.5 percent
Last 10 games: 50 percent
While Williams' 10-game stretch may be a hot streak anomaly, the pattern clearly points to a bonafide scoring threat who is finding his sea legs. His true shooting percentage of 59.6, leads all rookies, most notably front-court scorers Keegan Murray and Ben Mathurin. Williams ranks fourth in points and first in field goal percentage ranks first among all rookies who aren't centers that camp out underneath the rim. Williams' most recent 10-game stretch underscores that with increased volume, he has superstar potential. While Gilgeous-Alexander sat out five games after the All-Star Break to recuperate from a series of nagging injuries, Williams boosted his efficiency.
In SGA's return, he had the green light to drop 32 points on 12-of-15 shooting and dished five assists in a win over the Utah Jazz. It might be time to admit that Presti has done it again. It seems like every year, the Oklahoma City Thunder general manager dips into the draft barrel, performs some prestidigitation, and plucks out a hallowed prospect.
It may seem like common sense now, but James Harden and Russell Westbrook weren't guaranteed superstars, either. He also drafted Domantas Sabonis, who he flipped to Indiana for Paul George, who turned into Gilgeous-Alexander.
SGA's ascendence has kept the Thunder out of the pole position in the Wembanyama race as many expected they'd be, something equally promising has occurred instead. Williams is emerging as the member of a new three-headed Oklahoma Cty monster and a fourth head could emerge on that chimera next season when Chet Holmgren recovers from the Lisfranc injury that ended his Rookie of the Year campaign before it ever began.
And yet, the Thunder are still aligned with the Lakers, Pelicans, Blazers, and Jazz for one of the final spots in the play-in tournament. They're a winning streak away from catching the Los Angeles Clippers. Hope is rising in Oklahoma City.
Ultimately, Banchero has the better resume to clinch Rookie of the Year, which has been newly anointed as the Wilt Chamberlain Trophy, but the 2023 Rookie of the Year race may be viewed in the same vein as Donovan Mitchell's unsuccessful push after a sluggish start to his rookie season in 2018. That year, Mitchell began flashing the potential to be the better long-term prospect, but Simmons' two-way ability and consistency won him over with a majority of voters for the coveted rookie honor.
Williams may have run out of time to snatch Rookie of the Year from Banchero, but the accelerated growth of his game underscores the position Oklahoma City finds itself in. They might have a Donovan Mitchell-caliber talent on their hands. It's a development that's surprising, but only because it's happening so quickly.