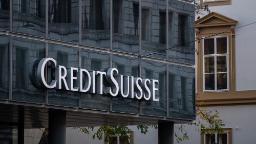 London
CNN
 — 

Credit Suisse can't catch a break.
In the latest piece of troubling news, the beleaguered Swiss bank has delayed the publication of its 2022 annual report following a "late call" from the US Securities and Exchange Commission on Wednesday evening.
The SEC got in touch over revisions the bank had previously made to its cash flow statements for 2019 and 2020, Credit Suisse

(CS) said in a statement Thursday.
Shares in the bank, which have been trading around record lows, slid 5%.
"Management believes it is prudent to briefly delay the publication of its accounts in order to understand more thoroughly the comments received," the company said.
Credit Suisse added that its 2022 financial results were not impacted. Those revealed the biggest annual loss since the financial crisis in 2008, laying bare the scale of the challenge the bank faces as it attempts a turnaround.
Thursday's news underscores that challenge and will also add to concerns about governance at Credit Suisse. It is already in the crosshairs of Switzerland's financial regulator, which is reportedly looking into comments the lender's chairman made about the health of its finances.
Customers withdrew 111 billion Swiss francs ($121 billion) in the final three months of 2022, when the bank was hit by social media speculation that it was on the brink of collapse.
The rumors, which sparked a selloff in the lender's shares, followed a series of missteps and compliance failures that have hurt the bank's reputation and profit, as well as costing top executives their jobs.
Finma, the Swiss regulator, is seeking to establish the extent to which Axel Lehmann, and other bank representatives, were aware that clients were still withdrawing funds when he told reporters that outflows had stopped, Reuters reported last month, citing people familiar with the matter.
Finma declined to comment and Credit Suisse told CNN it did not "comment on speculation."
In October, Credit Suisse embarked on a "radical" restructuring plan that entails cutting 9,000 full-time jobs, spinning off its investment bank and focusing on wealth management.
"We have a clear plan to create a new Credit Suisse and intend to continue to deliver on our three-year strategic transformation by reshaping our portfolio, reallocating capital, right-sizing our cost base, and building on our leading franchises," CEO Ulrich Körner said on February 9.