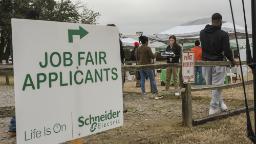 Minneapolis
CNN
 — 

There's a slight chill running through the US labor market, but the temperature is still too high for the Federal Reserve.
The number of job openings in the United States fell to 10.8 million in January, down from an upwardly revised 11.23 million in December, the Bureau of Labor Statistics reported Wednesday as part of its monthly Job Openings and Labor Turnover Survey, or JOLTS.
The consensus estimate from economists was for 10.5 million available positions in January, according to Refinitiv.
The January JOLTS report showed that hiring increased to 6.37 million from 6.25 million, layoffs surged to 1.72 million from 1.48 million, and quits dropped to 3.89 million from 4.09 million.
Those shifts point to a cooling labor market. However, the continued imbalance between worker supply and demand means the US job market remained tight in January — and that's not what the Federal Reserve is looking for in its efforts to cool the economy.
"While the January JOLTS report shows job openings are heading in the right direction for the Fed, the decline is far too modest to convince that labor market conditions are cooling enough to bring down inflation," Oxford Economics economists wrote in a statement issued Wednesday. "The Fed will put more weight on Friday's employment report, but signs continue to point towards [quarter-point] rate hikes at each of the next three [Federal Open Market Committee] meetings."
The Fed remains highly attuned to the monthly JOLTS report as the data can serve as a proxy for labor market demand. Fed officials have expressed concern that a tight labor market could keep upward pressure on wages and, in turn, inflation.
"Quits, they're inching down," Kris Mitchener, a professor economics at Santa Clara University, said in an interview. "Quits are important because they tell us something about how workers are perceiving their relative bargaining positions in the labor market and [whether] they have outside options."
In January, there were nearly 1.9 available jobs for every job seeker.
However, concerns are growing about the reliability of the JOLTS data. The survey response rate has more than halved during the past 10 years, a freefall that only accelerated during the pandemic. In December, the response rate was 31.1%, down from 56.4% in February 2020 and 69% in January 2013.
Job openings, as recorded in the JOLTS data, have fallen 10% since their record peak of 12.03 million in March 2022.
However, private-sector survey data and online job postings have shown a considerably stronger decline, said Julia Pollak, chief economist with ZipRecruiter.
"We do expect that, at some point, JOLTS data will track what we're seeing in online job postings, which have fallen around 28% since the Fed began its supersized interest rate hikes in June," Pollak told CNN.
The online job postings have fallen steadily but remain well above pre-pandemic levels by about 16%, she said.
Still, some aspects of the JOLTS report — particularly layoff activity — do indicate that a slowdown is occurring in the labor market, she noted Wednesday.
The estimated 1.72 million layoffs in January marks a noticeable turnaround from trends of two years when the monthly levels averaged 1.44 million and did not get above 1.63 million, BLS data shows.
"The large increase to 1.7 million [in January] brings them closer to the pre-pandemic average of 1.9 million and suggests that the period of unprecedented job security for American workers is coming to a close," Pollak said.
The JOLTS report dropped just as Fed Chair Jerome Powell sat before Congress for the second day of his semiannual monetary policy testimony.
The Fed's sharp interest rate hikes last year do appear to have contributed to some slowing within the US economy, Powell said, noting housing sector activity weakening and lower business investment. However, the labor market "remains extremely tight," he said.
Powell, during his testimony Wednesday before the House Financial Services Committee, reiterated that Fed officials will review the "totality of the data" when evaluating the size and pace of future monetary policy actions, including what could come two weeks from now.
One major piece of data will come Friday when the BLS releases its jobs report for February. Economists are expecting monthly job gains of 205,000, which would be a large decline from the monster 517,000 jobs added during January.
Wednesday's employment report from payroll provider ADP, seen as a proxy for the government's monthly jobs report, showed that a projected 242,000 jobs were added by private employers in February.