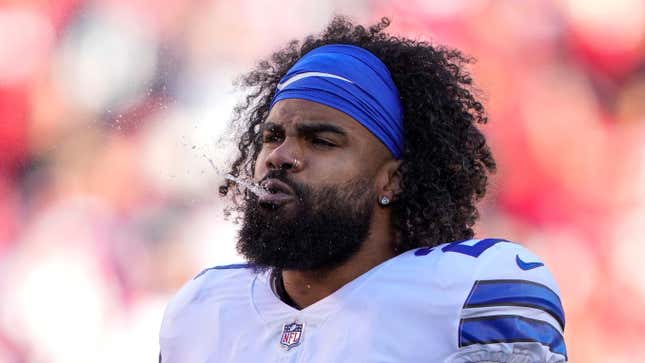 If you're an NFL fan wondering why you haven't heard former Dallas Cowboys Ezekiel Elliott's name mentioned much lately, that's because he's still a man without a football home. There's been speculation about where Elliott could land, but he's still searching for that spot. Elliott's frustrations are reportedly mounting with each passing day of free agency. Similar to common sense, self-awareness is always produced naturally.
5 Richest active NFL players | Money Mondays
One of the reasons Zeke is in this position comes down to the false sense of security he had in Dallas. Whenever you're one of Jerry Jones' favorites, you tend to hang around longer than you probably should. Take a quick peek at Elliott's Twitter page. Where he wants to be and where he likely feels he still should be are clear. Anytime a running back makes what Zeke made ($15 million avg. per year), and his backup hurdles him in production and on the depth chart, it's only a matter of time before the inevitable end.
Cowboys should have cut bait earlier
Any other team would've parted ways with Elliott two years earlier. But we know how Jones and the Cowboys operate. Jerry tends to hold on just a little too long, especially if you're one of the "chosen" few he truly loves. Many thought Jones had lost his mind giving Elliott that massive long-term extension a few years back. I may have whiffed on Odell Beckham Jr. recently (we'll see how that plays out), but the chances of Zeke getting another sweet deal like that at his position are slim.
The fact that Elliott hasn't removed the Cowboys from his social media might not be a big deal, but it means something. That's where he wants to be, and probably feels he deserves to play out his career. Once Tony Pollard began to overshadow Elliott while receiving fewer touches, something should've clicked in Zeke's head. It's harder for some to prepare for than others, but even long-time Cowboys fans saw this coming.
Now Elliott is without a home figuratively and shocked that he's still unsigned with the NFL draft just weeks away. There have been reports of him possibly following former Cowboys offensive coordinator Kellen Moore to the Chargers, but obviously, that's still a rumor. The Bengals, Eagles, and Jets were all interested in Elliott, but those have seemingly chosen to move on without the former All-Pro back. If Zeke isn't signed before the draft later this month, he may spend far more time as a free agent than he'd imagined.